In the era of big data, it's easy to get lost in the deluge. In many ways, the same thing can be said about the startup economy where new platforms are continually emerging to address new problems with better solutions.
Those two things came together at Collab 5.0, an open innovation platform jointly run by MetLife and Lumenlab, which awarded Endor a $100,000 contract to implement their blockchain-based data analytics solution with MetLife Korea.
Endor makes data analytics simple and secure, allowing companies of all sizes to derive meaningful insights from encrypted data sets. The platform is known as the Google of analytics because it enables users to enter queries that produce analytically driven results.
The company will apply these features at MetLife's Seoul-headquartered branch, providing advanced AI and predictive analytics to the company's customer engagement, sales, and operations initiatives.
Noting the importance of the collaboration, Endor CEO, Dr. Yaniv Altshuler, said:
"We are incredibly honored to be selected the winner of MetLife Korea's Innovation Program, Collab 5.0. This is a huge vote of confidence in the unique predictive analytics capabilities our platform offers."
Founded in 2014 by MIT researchers, Endor first drew attention for its Social Physics technology that provided companies with predictions on market movements and customer behavior. Using encrypted data, Endor's platform allowed retailers and other businesses to make critical decisions about their customers without violating privacy, something that is especially prescient in a post-GDPR data landscape.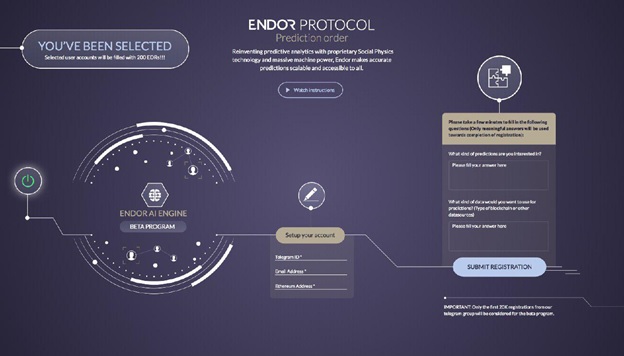 The recently released Endor Protocol uses blockchain technology to transfer datasets to different users, an approach to data analysis that is more affordable and more insightful, especially for SMBs with more modest research budgets. Powered by an ERC-20 EDR utility token, Endor Protocol v.1 is combining AI and blockchain technology, two of the most prominent new technologies available.
In a statement, Zia Zaman, LumenLab's chief executive officer and chief innovative officer of MetLife Asia, commented on the imperative of forward-leaning technology for maintaining a competitive business model:
"Innovation is a business imperative and external collaboration forms a vital component of MetLife's efforts to transform the insurance sector. Collab is about building partnerships that help us innovate ahead of tomorrow's challenges to have a greater impact on those we serve."
This priority has made developing promising startups a key component of the company's long-term success strategy.
As the name suggests, Collab 5.0 is the fifth iteration of the annual startup incubator that strives to apply a thoughtful, structured, and methodical process to insurtech startups, helping them develop and mature with scalability in mind.
Participants are selected through an application process, and this year's event drew 184 applicants from 36 different countries. Ultimately, the selection winnows down the entries to seven finalists and five winners.
While Endor took the top prize and the $100,000 contract, Collab 5.0 also acknowledged Eda Communications, Fount, Gnowbe, and MINDsLab as recipients of specials Judges Awards.
In partnering with the winning platforms, MetLife isn't just investing in the future. They are looking to make an immediate impact on their operations. Young Rok Song, senior vice president and general manager of MetLife Korea, believes that "their solutions have the potential to offer tremendous benefits to our business and customers in Korea."
The insurance industry cuts across many different sectors, interacting with healthcare, automotive, housing, and many others. Understanding the trends associated with these industries and their impact on the insurance provider has vast implications for the company.
For the next year, Endor will have an opportunity to bring that possibility to fruition, potentially demonstrating the impact that blockchain-based applications can have at the enterprise level.
The views and opinions expressed in the article Blockchain Data Science Startup Endor Wins MetLife Korea Contract do not reflect that of 48coins, nor of its originally published source. Article does not constitute financial advice. Kindly proceed with caution and always do your own research.
⚡️ Explore Our Cheap Efficient Cryptocurrency Advertising Services
We offer a variety of cryptocurrency advertising options including: Facebook posts, Twitter Tweets, Pinterest Pins, Web Banners, STO listings, Exchanges, Casino Banners, ICO listings, Article Links and Conference Landing Page Links!
Aren't You Curious How's Your Favorite Cryptocurrency Performing Today April 18, 2021?
Check out our price index page! Pick your favorite cryptocurrency to see its data; crypto prices, crypto market capitalization, trading pairs, buy or sell, analytics, charts, FIAT calculator, social media links, latest tweets and much more!
Real Time Data at Your Fingertips
| # | Coin | Price | Price Graph (7D) |
| --- | --- | --- | --- |