While the past few months have seen Bitcoin (BTC) recover in dramatic fashion, data suggests that venture capitalists and other notable investors have begun to put their feet on the crypto brake. But this isn't bearish per se. Let's take a look.
Crypto & Blockchain Venture Capital Sees Tough Q1
According to Alex Thorn, a crypto-friendly venture capitalist based in Boston, investments into cryptocurrency startups, not digital assets themselves, has lagged behind Bitcoin's price by about six months.
This means that industry firms actually saw their largest quarter in Q2 of 2018, rather than Q4 of 2017 as retail traders would expect, raking in nearly $2.4 billion collectively. Per Thorn, who cites data from Pitchbook, Q4 of 2018 saw a mere fifth of that, with crypto companies pulling ~$550 million worth of deals. If this trend continues, venture investments in blockchain upstarts may continue to see few cheques fly their way.
I looked at VC activity in the crypto/blockchain space. A few takeaways, some expected, some less so. Just a few charts.

First, VC cycle has lagged bitcoin price. pic.twitter.com/u6T04htMZV

— Alex Thorn (@intangiblecoins) May 2, 2019
Thorn also notes that not only is direct venture investment down but so are deals made by accelerators and angel investors. In fact, since Q1 of 2018, the number of deals in this category, which are often of smaller volume and made with more gritty, on-the-ground-floor startups, has reached their lowest point since before 2017. Ouch. Thorn explains the significance of this fact:
"Doesn't bode well for the number of seed and early stage deals we're likely to see over the next few quarters."
And to put a cherry on top of the depressed, not so tasty venture capital cake, the number of crypto-focused deals, the count of investors participating in said deals, and total capital is all down since their early/mid-2018 peaks.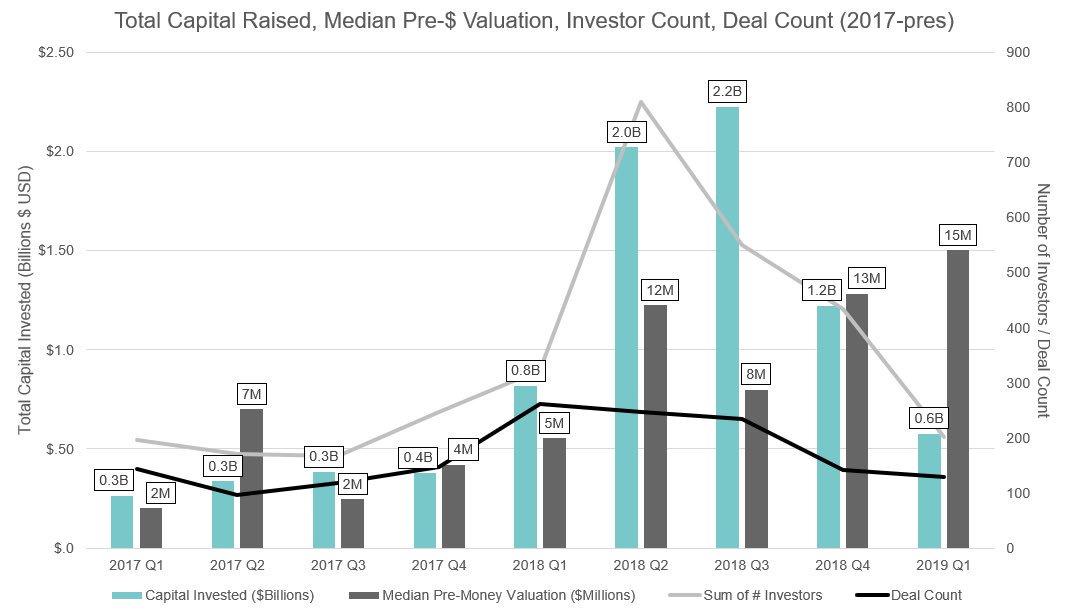 Thorn's recent analysis comes just after Business Insider revealed that in the past four months alone, startups in this embryonic space have secured $850 million in 13 large deals, seemingly contradicting the aforementioned data. This influx of funding comes in spite of "finance execs'" worries that blockchain as a technological advancement still has an array of drawbacks: lack of regulatory clarity, failure to interoperate, a lack of network continuity, intellectual property concerns, and an inherent inability to scale.
Deals Are Still Brewing
Make no mistake, while Thorn notes that money flooding into cryptocurrencies and blockchain is on the decline, there are still notable deals being struck. And what's notable about this trend is that now, projects looking to turn a quick buck with vaporware and questionable business strategies are being excluded — arguably a bullish sign.
Lesser-known yet respected crypto exchange Liquid, for instance, just closed its Series C funding round, which saw its private value rise to over $1 billion. Liquid saw cheques written from IDG Capital, a prominent Asia-centric venture fund, and Bitmain, the Bitcoin mining space's most prominent yet controversial player. Bakkt, the cryptocurrency initiative/platform backed by NYSE's owner, the Intercontinental Exchange (ICE), saw a casual $182.5 million fly its way, kicking off 2019 with a bang.
Just the other day, ErisX, a TD Ameritrade-affiliated cryptocurrency platform led by a notable Wall Street veteran, secured $20 million, before announcing that it had opened its Bitcoin spot market. And HTC, just two weeks back, backed Proof of Capital, a venture fund with a $50 million principal focused on investing in "market-transforming companies" in the blockchain ecosystem, especially those that involve identity, payment, custody, and data security.
And there may be even more high-quality, high-ticket deals after a number of IPOs close later this year.
Even if the IPO frenzy doesn't do much to quell the declining levels of crypto-related venture investment, some are sure that Bitcoin and related technologies can succeed anyway. As reported by NewsBTC over recent days and weeks, industry developments, save for the Bitfinex and Tether news, technicals, and on-chain statistics are all signaling that the cryptocurrency market is getting back on its feet.
The views and opinions expressed in the article Crypto Venture Deals Are On The Decline, But Bitcoin is Up 90% YTD do not reflect that of 48coins, nor of its originally published source. Article does not constitute financial advice. Kindly proceed with caution and always do your own research..
.
⚡️ Explore Our Cheap Efficient Cryptocurrency Advertising Services
We offer a variety of cryptocurrency advertising options including: Facebook posts, Twitter Tweets, Pinterest Pins, Web Banners, STO listings, Exchanges, Casino Banners, ICO listings, Article Links and Conference Landing Page Links!
Aren't You Curious How's Your Favorite Cryptocurrency Performing Today April 19, 2021?
Check out our price index page! Pick your favorite cryptocurrency to see its data; crypto prices, crypto market capitalization, trading pairs, buy or sell, analytics, charts, FIAT calculator, social media links, latest tweets and much more!
Real Time Data at Your Fingertips
| # | Coin | Price | Price Graph (7D) |
| --- | --- | --- | --- |