Litecoin has become the darling of the cryptocurrencies again as it out performs the majority of the top coins including its big brother, Bitcoin. Breaking a psychological resistance level of $50 a few hours ago, Litecoin is one of the day's best performing crypto assets once again. The question is, how far can it go this time?
Litecoin Lifted During Asian Trading
Over the past 24 hours, LTC volume has surpassed $1.5 billion which is over double that of XRP two places ahead of it in the market cap charts. The momentum has taken its price from below $48 to just over $51 where it currently trades. This represents a 6.5% gain on the day which has taken Litecoin market cap back over $3 billion.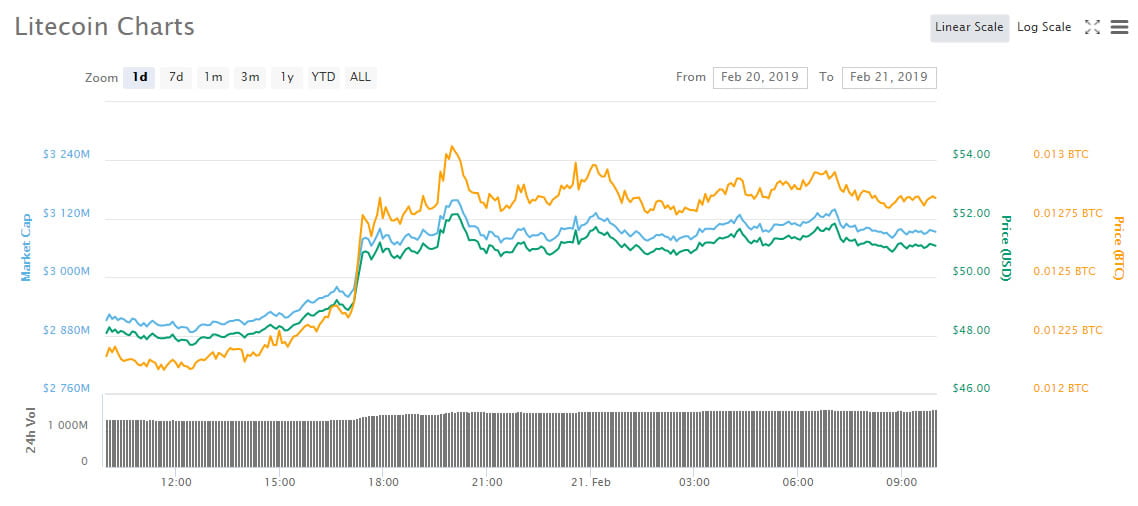 Since its mid-December low of $23, Litecoin has made a staggering 120% recovery to its current level. In comparison Bitcoin has only managed 24% recovery, but Ethereum has done better with around 75%. This is quite remarkable for an altcoin that everyone gave up one when creator, Charlie Lee, sold his stash at the peak. Granted, LTC is still a long way down from those lofty heights but a recovery of 120% in just two months is staggering for any crypto asset in the depths of a bear market.
Litecoin, often dubbed the 'sliver' to Bitcoin's 'gold', has been a stalwart of the crypto world having hung around since its inception in 2011 when it was forked from Bitcoin to provide a 'lighter', faster version of the digital currency.  In 2017 Litecoin broke and stayed above $50 for around three months before it lifted off and surged 250% in just two weeks in December. Lee, as usual, has been talking it up;
Litecoin trying its best to lead all of cryptocurrencies out of this bear market. #UFC #MammothFilm #ConfidentialTransaction #MimbleWimble #LightningNetwork #Flappening pic.twitter.com/B4h6L2rsgl

— Charlie Lee [LTC⚡] (@SatoshiLite) February 8, 2019
Where Next For Litecoin
This shows that Litecoin still has monumental potential when the fomo train gets going again. This time, however, is likely to be different though as investment will be slow and steady but $100 LTC this year does not seem that incredulous any longer considering its recent performance.
Traders, analysts and crypto tweeters have been observing the stellar performance of LTC recently;
Wow litecoin is breaking out! #ltc #litecoin #bitcoin #btc

FOMO time

We brok the 200ma, we broke 48 now it's time to hit 50-75@tradingroomapp pic.twitter.com/pS4HBrfUw0

— Bitcoin Litecoin Master ⚡️ (@xtdisnkfe) February 18, 2019
Just like Bitcoin, Litecoin will also be halving and it will be happening much sooner, August 19 according to this counter. This reduces the block reward from 25 to 12.5 LTC and decreases the inflation rate by over half and reinforces its scarcity. This is an extremely bullish event for a cryptocurrency and according to Chinese media a local crypto mining pool called Poolin.com has found a WeChat group named "Litecoin Halving Warm-up" to attract LTC investors and miners. Cheap Litecoin has been hard to resist for those that have known it for the past 8 years.
The views and opinions expressed in the article Litecoin Outperforms Top Crypto Assets Again, What Could Breakout of $50 Lead to? do not reflect that of 48coins.com nor of its originally published source. Article does not constitute financial advice. Proceed with caution and always do your own research.