Initial Exchange Offerings or IEOs are the latest trend taking the crypto space by storm. An IEO can be thought of as variations of the more familiar Initial Coin Offering model. Both models share some similarities but have some critical differences as well.
IEO Vs ICO, What's the Deal?
The similarity between ICOs & IEOs is that they are both crowdfunding models. During an ICO or an IEO – organizers sell crypto tokens of their project to a group of investors and usually, these token sales are not restricted by geographical boundaries (barring some jurisdictions).
This means virtually anyone from around the world can participate in the token offering thus enabling far greater outreach than more traditional fundraising like an IPO or venture funding.
The key difference between the ICO & the IEO is that in an Initial Exchange Offering a cryptocurrency exchange facilitates the token offering on its platform rather than the startup doing it themselves. This small change in the tokenized fundraising process comes with its own set of benefits and consequences.
So How Successful are IEOs so Far?
IEO projects the world over have collectively raised a whopping $1.67 billion so far, according to InWara's Initial Exchange Offering Report. Interestingly, a majority of these funds – $1.4 billion was raised in 2019, indicating the trend really picked up pace this year.
Funds Raised by IEOs in 2019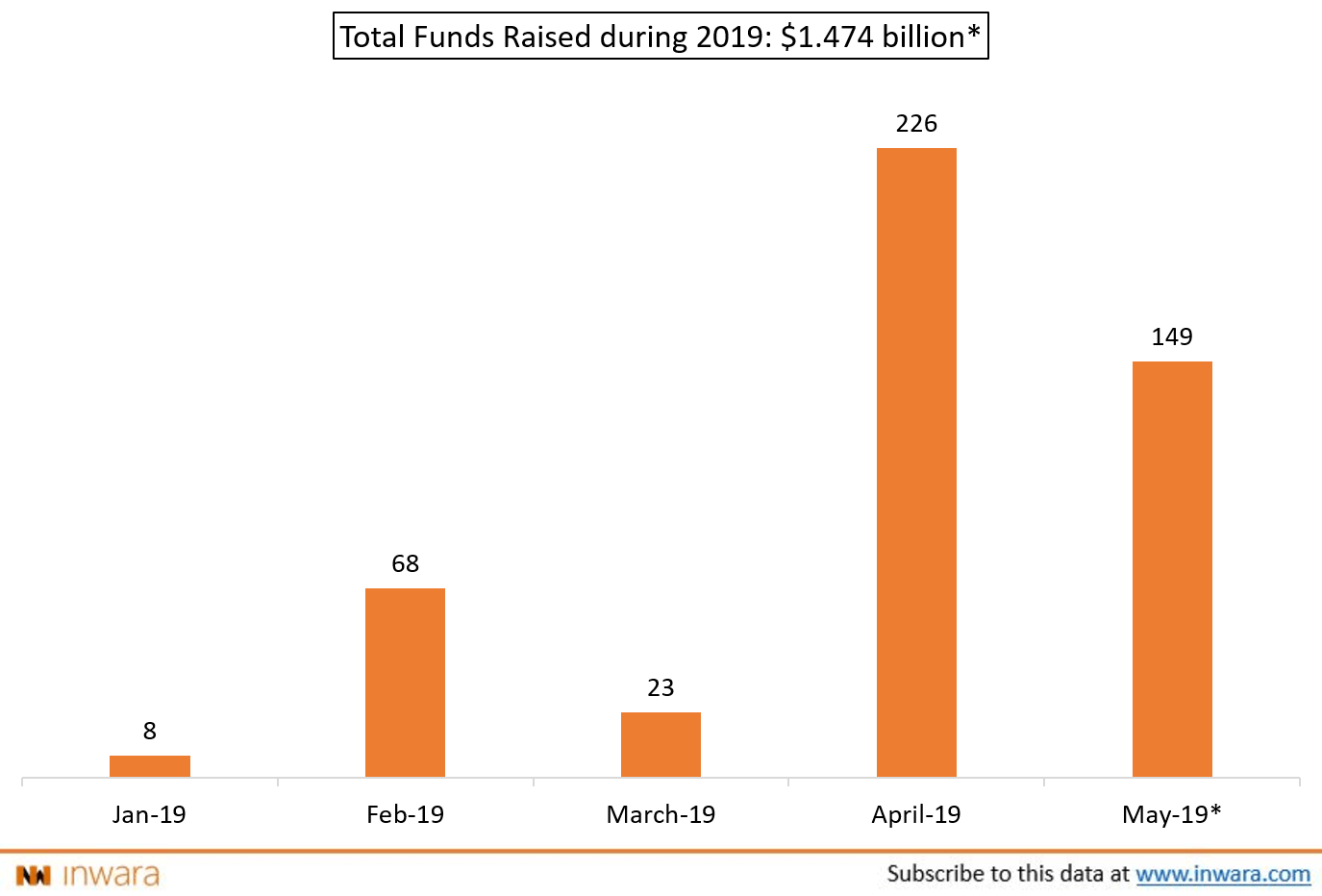 *Total funds raised includes $1 billion raised by Bitfinex. Not represented in the graph.
You'd be surprised to know that ~60% of the total funds was raised by a single IEO project – the infamous Bitfinex IEO. Why infamous? Because Bitfinex was accused of misusing funds from its sister company Tether – which is the most popular stablecoin in the crypto space, by the New York Attorney General.
Bitfnex executives admitted in court that they misused approximately $850 million in corporate funds. Its private IEO was just days after these allegations were charged against them in court. Bitfinex also recently announced plans to launch its own Initial Exchange Offering platform similar to other cryptocurrency exchanges like Binance and Huobi.
Exchanges Jump on the IEO Bandwagon
While this is big news, it doesn't come as a surprise because exchanges starting their own IEO launchpad is the norm right now. In late 2017 and early 2018, only a handful of exchanges had launched IEO's – "Initial Exchange Offerings" hadn't been coined yet – but in 2019, more than two dozen exchanges have IEO launchpads.
The most popular IEO launchpad? London-based LATOKEN, placed 5th in Coinmarketcap list of top exchange by exchange trading volume.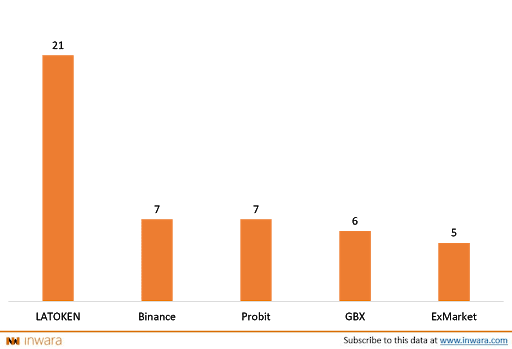 LATOKEN is miles ahead of other cryptocurrency exchanges in terms of the number of IEO projects launched so far. According to InWara's market intelligence platform, as many as 21 IEO projects have been launched so far, 3 times as many as Binance- widely considered to be the pioneer of the IEO model and the largest cryptocurrency exchange by volume.
So what's in it for exchanges by launching IEO projects? It drives volumes for them, of course! Most exchanges have their own native crypto token, for example – BNB on Binance, exchanges lure investors by offering discounted prices while buying IEO tokens when using their native token which in turn drives up the demand for the native token.
But there are more lucrative ways exchanges are bringing in clients. And it's got everything to do with trust.
Investors Love IEO Projects, at Least Some of Them
IEO projects are in-demand among investors so much so that some token offerings are getting sold out in seconds. For example, BitTorrent IEO on Binance Launchpad sold our in just 15 minutes and raised to a whopping $7.2 million. Similarly, Veriblock IEO on Bittrex's IEO platform sold out in 10 seconds and raised an incredible $7 million.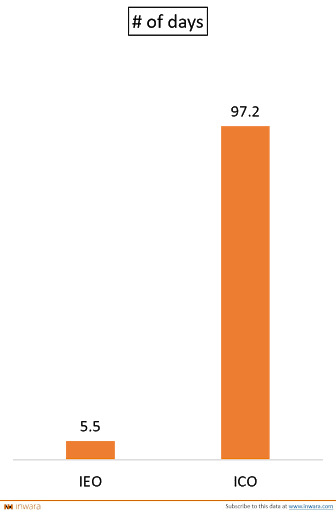 Interestingly, the average token sale for an IEO project is just 5.5 days while for an ICO project that number jumps to 97 days. So clearly, on average IEO projects are definitely more in-demand than ICO projects. So why is that?
Coming back to how exchanges are driving clients towards using trust. Think about this for a second, what has the ICO space become synonymous with? Scams and frauds. And rightly so, there were many ICO exit scams which witnessed investors losing million down the drain.
So what do exchanges do? They offer investors curated crypto projects directly on their platform. It's just easier for investors to trust that the exchange has adhered to its strict vetting process while launching an IEO project. Also, the very fact that the exchange is offering to list the token allows for easy liquidity for token holders.
But the flipside of the story is, not all exchanges have a strict vetting process. We'd suggest DYOR and not blindly trust an IEO project. As long as there is money to be made, bad actors will always be around.
The views and opinions expressed in the article The Next Disruptive Force in the Crypto Space? do not reflect that of 48coins, nor of its originally published source. Article does not constitute financial advice. Kindly proceed with caution and always do your own research.
⚡️ Explore Our Cheap Efficient Cryptocurrency Advertising Services
We offer a variety of cryptocurrency advertising options including: Facebook posts, Twitter Tweets, Pinterest Pins, Web Banners, STO listings, Exchanges, Casino Banners, ICO listings, Article Links and Conference Landing Page Links!
Aren't You Curious How's Your Favorite Cryptocurrency Performing Today November 25, 2020?
Check out our price index page! Pick your favorite cryptocurrency to see its data; crypto prices, crypto market capitalization, trading pairs, buy or sell, analytics, charts, FIAT calculator, social media links, latest tweets and much more!
Real Time Data at Your Fingertips
#
Coin
Price
Price Graph (7D)
1
$

18,844.32

2
$

586.88

3
$

0.644744

4
$

0.999085

5
$

341.65

6
$

15.24

7
$

86.75

8
$

5.53

9
$

0.162338

10
$

33.19