Will Ripple (XRP) Bulls of Jan 30 Flow Back and Prop Dropping Prices?
Ripple prices down 5.2 percent
TaoTao exchange launching in mid-May and supports Ripple (XRP)
Transaction volumes low but as prices retest main support, participation may spike
After pressure from the community, CMC is listening to feedback and may adjust their methodology so that investors can have a fuller image of asset prices. At the same time, Yahoo backed TaoTao exchange will launch in mid-may and Ripple (XRP)-whose prices are down 5.2 percent, is available for trading.
Ripple Price Analysis
Fundamentals
Four months after a disastrous exposure that saw Coincheck lose $540 million worth of NEM; news began doing rounds that Yahoo was planning on investing $19 million for a 40 percent stake at BitARG, now TaoTao. Through a subsidiary, Nikkei Asian Review reported that the "purchase of BitARG shares would be made through Tokyo's YJFX, a wholly owned Yahoo subsidiary that operates foreign exchange transaction services" and the exchange planned to "service operation and security expertise of the Yahoo Japan Group."
Close to a year later and the exchange is launching, and aside from Ripple (XRP), TaoTao accepts other liquid coins including Bitcoin and Litecoin. The exchange will launch in mid-may, but pre-registration is on-going and ends on April 17.
In other news, CoinMarketCap is listening to their users' feedback, and to prevent a fuller picture of crypto assets, the asset price tracker which recently added two crypto indices will "work hard and add a suite of new metrics."
To that end, Carylyne Chan, CMC's head of Marketing said there would be changes in their methodology. That includes "plans to include liquidity measures, hot and cold wallet balances and traffic data for listed exchanges" so as "to provide as much information as possible to our users so that they can form their conclusions and interpretations."
Candlestick Arrangement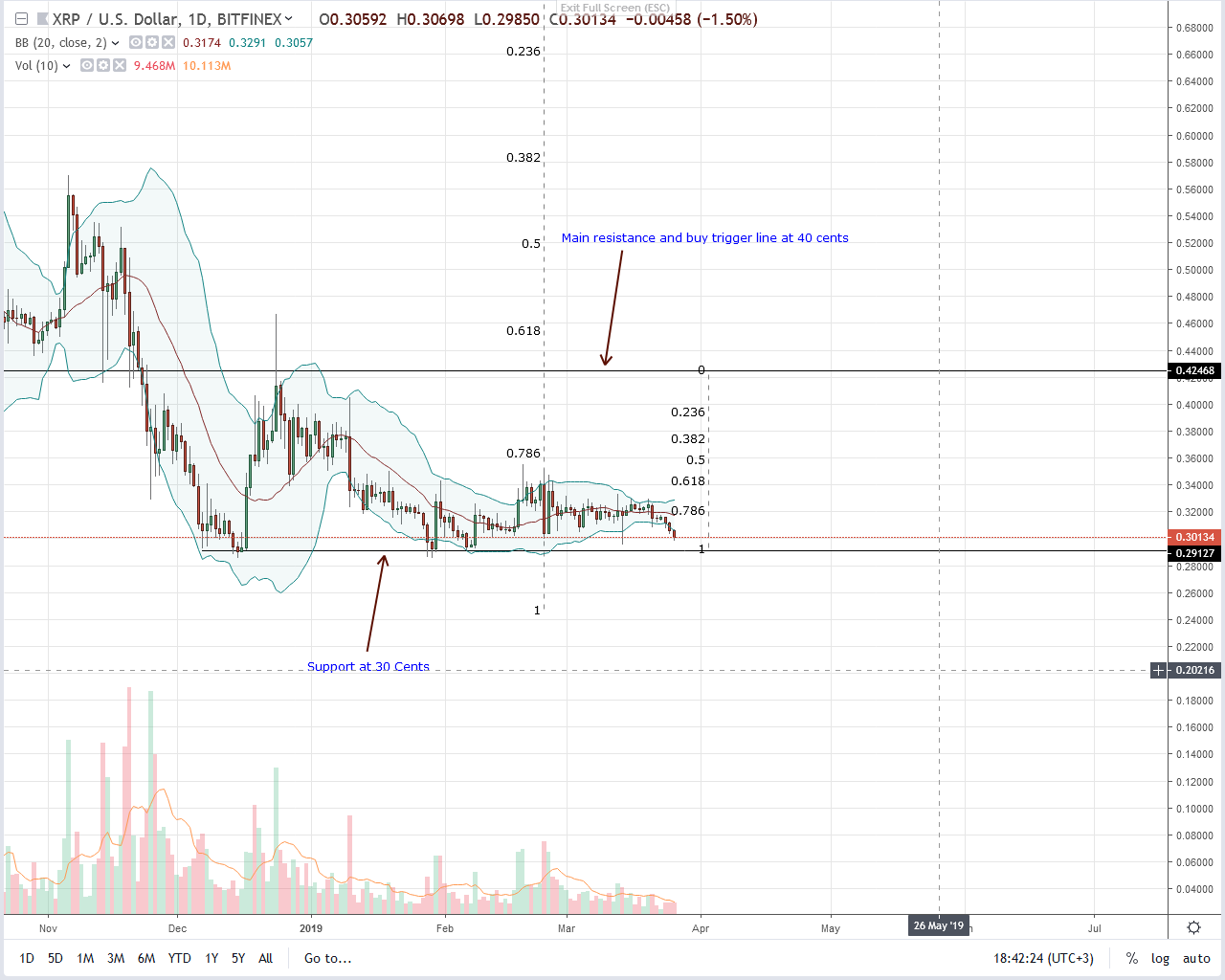 Sellers are stepping up and pressing the gas pedal. Ripple (XRP) is down 5.2 percent from last week's low, and bear momentum is increasing. As visible from the chart, odds are prices will break lower nullifying our bullish stand as XRP trickle below 30 cents-our first level of support.
That means bears of Feb 24 will be back in contention, but unless otherwise there is a substantial break below Jan 30 lows, we shall retain a neutral-and even bullish outlook.
Note that on more than two occasions, Ripple prices have found strong support at this level and the same may print out along this support zone since we are bullish, expecting bulls of late Sep 2018 to flow back.
Technical Indicators
Any drop below Q1 2019 lows must be with high volumes above 61 million of Feb 24. If not and prices find support, then high participation will mark underlying demand and a possible resumption of buy pressure. Otherwise, wide price ranges below Jan 30 lows must have high participation spike as aforementioned.
The views and opinions expressed in this article Will Ripple (XRP) Bulls of Jan 30 Flow Back and Prop Dropping Prices? do not reflect that of 48coins, nor of its originally published source. Article does not constitute financial advice. Kindly proceed with caution and always do your own research. In rounding off this piece Will Ripple (XRP) Bulls of Jan 30 Flow Back and Prop Dropping Prices?, here're the Top prominent words: Bulls Of Jan 30. Bulls Of Jan 30 Flow. Dropping Prices. Launch In Mid-May. Prop Dropping Prices. Taotao Exchange.
Aren't You Curious How's Your Favorite Cryptocurrency Performing Today on April 21, 2021?
Check out 48coins price analysis category on 48coins. Explore price predictions from all industry experts. Select your favorite cryptocurrency for more data, such as crypto exchanges, historical data, charts, FIAT converter, social hype and much more!
Real Time Data at Your Fingertips
| # | Coin | Price | Price Graph (7D) |
| --- | --- | --- | --- |